Fair profile
The 17th international specialized exhibition EDUCATION & CAREER will be held from 14th till 16th of February 2019 in Palace of Art by the address: 3 Kozlova str., Minsk, Belarus.
Organizer: EXPOFORUM Exhibition Company.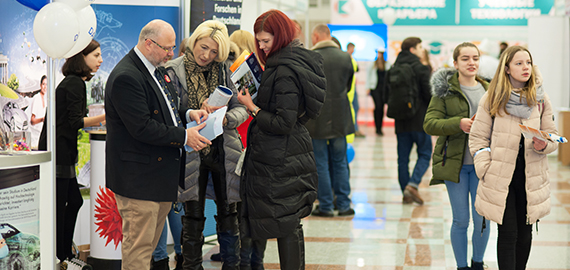 Goals of exhibition:

to inform about peculiar properties of contemporary education and careerism

to assist development and efficient use of labour resources and extension of business relations between educational institutions and employers

to render help young specialists in choosing perspective job, sphere of knowledge's applications, companies for job placement and professional development, direction construction of career way
Objectives:

education development and efficient use of cadres' potential

assisting in Self-determination of final-year students in prophecy choosing

population informing about sphere of educational services in institutes of higher education

adaptation of institution of professional education to labour-market

study of employers' needs in qualified cadres

population informing about skilled needs
Exhibition program includes: conferences, seminars, presentations, workshops, and competitions.
In 2019 EDUCATION & CAREER is held in conjunction with EDUCATIONAL TECHNOLOGIES – the only exhibition of educational environmental technologies, goods, and services in Belarus, thus concentrating many deci­sion makers interested in cooperation and development at one fairground.
Facts and figures 2018
In 2018 at the exhibition there were represented 108 participants from 9 countries: Belarus, Czech Republic, France, Germany, Israel, Kazakhstan, Latvia, Poland, and Russia.

Among them: leading vocational training schools, institutes of higher education, international educational centers, language courses, job placement agencies.

Over 11 000 guests visited the exhibition during 3 days of its work: pupils of graduating classes with their parents, enrollees, students, and young specialists.